Wed, Sep 16, 2015, 09:54 pm (This post was last modified: Wed, Oct 07, 2015, 05:59 pm by swagamemnon.)
SWAG LEAGUE WRESTLING PRESENTS:
A HOSPITALITY CEREAL PROMOTION:
CYORN 2: BRIDE OF CYORN [THE GREAT MIX-UP]:
THE RUSTLEMANIA ROYAL RUMBLE!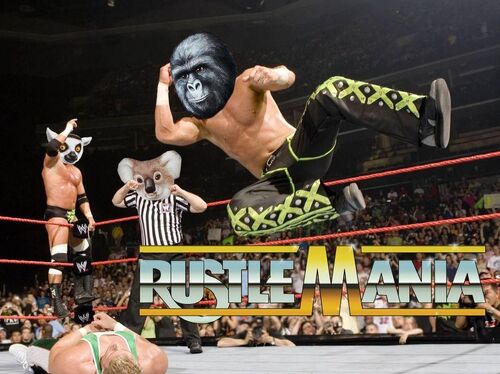 It's almost time for the moment we've all been waiting for!
Who will prevail and become the next great Swag League Champion?
ANNOUNCEMENTS
#1: Event Announcement
#2: Day 1 Event! Metal Chair Contest!
#3: Day 1 End - Old Homo thrown over the ropes!
#4: Night 1 End - Excited Clumsy Gamer slips off the turnbuckle.
#5: Day 2 End - Barber Tom gets a mouthful of metal.
#6: Night 2 End - RapeVan Man and The Mysterious Orphan take the walk of shame.
#7: Event 2 Announcement
#8: Day 3 Event! King Of The Ring Contest!
#9: Day 3 End - Ninja please.
#10: Night 3 End - Fat John loses self-control.
#11: The Googler's search comes up empty.
#12: Event 3 Announcement
#13: King of the Ring DEATHMATCH!
#14: Damn it doesn't feel good to be G. "Gangsta" Ronimo.
#15: Day 4 End - "Ballbuster" Nyn goes down. Giggity.
#16: Night 4 End - The Amazing Halleh leaves a parting gift.
#17: Day 5 End - It's

nach-o

time to shine, Dorito Goblin!
#18: Night 5 End - A filthy end for a filthy man.
#19: Day 6 End - For better or worse, Better Than Beck was better off dead.
#20: Night 6 End - No Heart has no chance.
#21: Day 7 End - The confederate flag whimpers in the wind.
#22: Night 7 End - Go home, Pauly Pupa.
#23: More like Bragamemnon amirite?
#24: Day 8 End - The Finale.
ELIMINATED
Zander
as
Old Homo
-
Town 1x Doctor
Obba
as
Excited Clumsy Gamer
-
Vanilla Town
Nolder
as
Barber "Barbarian" Tom
-
Mafia Goon
Sili Quirrels
as
RapeVan Man
-
Town Innocent Child
Hallia
as
The Mysterious Orphan
-
Vanilla Town
AJ_
as
Hank "Ninja Dog" Horrible
-
Mafia Goon
Celeste
as
Fat John
-
Town Bodyguard
raynpelikoneet
as
The Googler
-
Town 1x Vigilante
itsbrianyay
as
G. "Gangsta" Ronimo
-
Vanilla Town
Gerkuman
as
"Ballbuster" Nyn
-
Mafia 1x Day Vigilante
Nynaeve
as
The Amazing Halleh
-
Town Oracle
Alot
as
Dorito Goblin
-
Mafia 1x Isolator
Yates
as
Tomas "Filthy Frenchman" Blanchard
-
Vanilla Town
Razen
as
Better Than Beck
-
Vanilla Town
Apoc
as
No Heart
-
Town 1x Cop
alannalynn
as
Rebel
-
Vanilla Town
Beck
as
Pauly Pupa
-
Vanilla Town
Monstrman
as
Sriracha The Bold
-
Vanilla Town
bootycallinbabes0069
as
The Duck
-
Mafia 1x Roleblocker
FishSticks
as
Betty "Basic" Bitch
-
Vanilla Town
KeyHolder21
as
SexBot
-
Town Hunter
SET-UP INFORMATION [IN CASE YOU FORGOT!]
1. There are only two alignments in this game; town and mafia. There are five mafia members.
2. Roles and alignments have been randomly distributed, and the player list has been randomly organized in terms of when each player enters the match. In order to guarantee that a Mafia lynch can be achieved,
a single Mafioso was pre-randed into a random spot within the first nine players of the game
. The rest were distributed at random anywhere from 1-21.
3. Nine players will be added to this thread at pre-chosen intervals on Day 1. Six more will be added on Day 2. The final six will be added on Day 3.
RULES
1. As long as the game is ongoing, you may talk about the game only inside the game thread unless specified otherwise by a moderator.
2. If you have a role which allows you to communicate outside the game thread, then you may do so only when allowed by your role, and only with individuals specified by your role.
3. You may not edit or delete posts in the game thread for any reason at any time.
4. You may not post screenshots of, or directly quote your role PM, mod communication, or any other game-related communication that originated outside of the game thread.
5. You are expected to be familiar with the rules, and you are expected to abide by them even if you think they are incorrect.
6. You are expected to behave civilly.
7. You may roleclaim or character claim whatever you please. Flavor is irrelevant to player alignments.
8. Nothing out of the spirit of the game or anything of that punkass bullshit. Don't be a punkass.
9. Flavor is completely irrelevant and mostly exists because the moderator is bored.
The game will be using a mixed Hybrid Hammer / Plurality Lynch system. Phases will end at deadline and the player who received the most votes will be lynched using plurality as the tiebreaker. Phases will also end when a player reaches majority
after

all players scheduled to join the game thread in that day phase have joined
.
Tiebreak is resolved by lynching the person who got the highest total votes first.
Thread will be closed during night phase. In the event of majority hammer, please stop posting.
The game will run on a pretty standard 60 hour day / 12 hour night system, with the first day being slightly longer to accommodate the higher amount of joining players. At the beginning of Day 4 the game will shift to 36 hour days with 12 hour nights. All players may pre-submit any night actions they may have if they will not be online during the 12 hour night.
SAMPLE TOWN ROLE PM
Quote:Welcome to Rustlemania! You are

Swagamemnon

.

The founder of the Swag League wrestling circuit, you find trolling people in Mafia games more fun than taking blows in the ring. So here you are. You still have green beans for arms, you stupid jerk.

You are

Vanilla Town

.

Win Condition: Eliminate all mafia members.