Sun, Aug 03, 2014, 10:59 am (This post was last modified: Tue, Aug 12, 2014, 01:27 pm by swagamemnon.)
In an undisclosed location somewhere along the East Coast...
So I, I wanna tell you, somethin'. It was, um, I think it was about a month ago, my and my brother and some of our friends, we all do these bad movie nights, and one night my brother brought over...
Sharknado
.
Have you ever seen it?
Oh man.
Well, there's this guy -
Wait, no, that's not even that part I wanna talk about.
Okay, there's this guy
FishSticks
. The movie starts, and
FishSticks
is like some boat captain, he's wearing a hat, there he is. There are other people on the boat, but I, I have no clue what the fuck they are doing, but they are there.
So like, the guys hit a wave, and like a shark flops onto the deck.
And
FishSticks
is like running, yelling for some other guy. This is like, way before all the...
Sharknado
shit, it's just like a shark flopping around.
So the shark like, learns to fly or something, because he stops flopping on the deck and soars through the air and nails
FishSticks
like right in the neck, so he's like totally fucked.
Then it like, cuts to this other guy.
But then it goes back to
FishSticks
. And the shark is eating him while from feet to head. He fuckin', like, bites him in the neck and then his neck's fucking fine but he's got a shark eating him like a snake from his feet.
So, like, the guy dies.
Oh, uh.
FishSticks
is dead. He was
Dude In A Hat Yelling "Captain!"
,
Intro-Aligned
. He was eaten by a magical flying snake shark.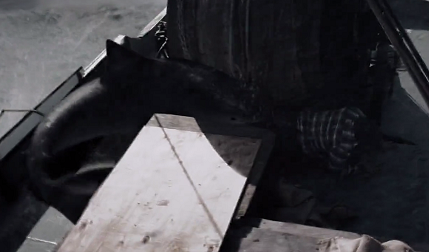 After that, well, awhile after that, there was this other guy.
Wait, no.
Give me a second.
---
Game Rules
1. As long as the game is ongoing, you may talk about the game only inside the game thread.
2. If you have a role which allows you to communicate outside the game thread, then you may do so only when allowed by your role, and only with individuals specified by your role.
3. You may not edit or delete posts in the game thread for any reason at any time.
4. You may not post screenshots of, or directly quote your role PM, mod communication, or any other game-related communication that originated outside of the game thread.
5. You are expected to be familiar with the rules, and you are expected to abide by them even if you think they are incorrect.
6. You are expected to behave civilly.
7. You may roleclaim or whatever you please. Characters are reserved by the moderator for write-ups, so good luck character claiming.
8. Each phase will end when specified by the moderator. The player with the most votes at this time will be lynched. If there is a majority, the phase will end as soon as majority is reached.
9. If you don't have the time to play, expect to be replaced or forcibly hydra'd. There is no post requirement, but expect me to be a total butthole about inactivity.
10. Nothing out of the spirit of the game or anything of that punkass bullshit. No making bets or anything like that. Be cool.
11. FishSticks is my co-mod: if you have an NA, send it to both of us. Game phases will be
two days long
,
day begins at 7AM EST and ends and 9PM EST
and the thread will be closed for ONE HOUR after the lynch and then re-opens for night talk. This may fluctuate, as we are using the
hybrid hammer
system and days may end early. Phases will be based on mod discretion in these scenarios. VS has sweet custom vote tags, so please use them. You are not required to unvote. Phase will end at deadline and player with most votes will be lynched unless we have a majority.
12. Day 1 and 2 will be three days long so you can get your SPAM out. More days may also be three days long if the moderator continues to struggle to count.
13. You need to send in your NAs before 7 AM. If you are not going to be around for the night timespan, please send in your NA before night starts.
---
Sample VT PM:
Quote:Welcome to Cory Drunkenly Recalls Sharkado: The Mafia Game!

Role: Vanilla Townie. Your power is your vote - use it wisely.

WC: Eliminate all threats to town.
All roles can be found in the mafia scum Normal Role list:
http://wiki.mafiascum.net/index.php?titl...rmal_Roles
There may be roles that are certain nights only, limited usage, or odd night / even night.
All roles can be town, mafia or third party. There can be more than one of any given role.
Cop checks will be "town" or "not town".
---
PLAYERS
1. Monk3P0 - Guy With Half A Leg, Vanilla Townie
2. raynpelikoneet
3. Teebs
4. Your Loving SwAg
5. Myndrunner - Holy Fucking Shit, That Dude From Beverly Hills 90210 Just Jumped In That Fucking Shark's Mouth,

Mafia Night 1 Vigilante
6. jepg - Tara Reid's Grown Ass Son Who Flies Helicopters Into Tornadoes Filled With Sharks With Bombs Cause LOL
,
Mafia Night 2 Vigilante
7. GongKong
8. Top Tier Tom - The Over-Acting Railing Fall Guy, Vanilla Townie
9. TOD
10. itsbrianyay
11. Nego - The Next Logical Step In John Heard's Career, Town Bodyguard
12. Monk3P0 2.0 [
Innocent Child
]
13. Little Lamb
14. ChrisisCraziest - The Asylum Production Company,

Survivor Mason
15. bootycallinbabes0069 - Sharktopus, Drunken Tangent, Vanilla Townie
16. Monstrman - That Dude Just Got Impaled On A Car Spike!, Town Bodyguard
17. Despot
18. _AJ
19. TheSlenderMan
20. Bass
21. Hallia
22. Gerkuman - Guy Who Believed He Was Auditioning For A Zombie Film, Vanilla Townie
23. Sheepyroos
---
Day 1 Write-Up
Night 1 Write-Up
Monk 2.0 is drunkenly modspewed
Day 2 Write-Up
Night 2 Write-Up
Day 3 Write-Up
Night 3 Write-Up
---
It is currently
Night 0
. The game thread will be open around 7AM EST on Monday.